BETTER BASICS REFILL PROGRAM
Reduce. Reuse. Refill. Repeat.
Zero waste. All the impact.
Reusing containers is a simple way to make a small change with big impact. Every time you refill the same container you're saving a plastic bottle. When you think of that on an annual basis, it's a suitcase-sized dent. And in ten years? A garage full.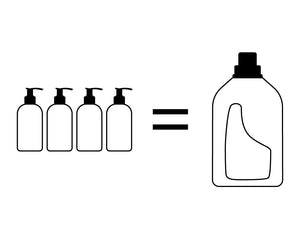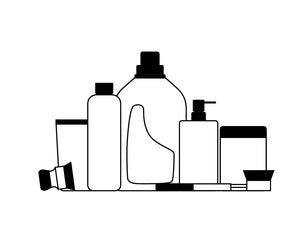 Sustainable swaps.
We help you reduce your environmental impact with all of the basics to create a plastic-free life. We offer simple everyday solutions for busy people, made easy.
Why dedicate our lives to reducing plastic?
Did you know that only 9% of plastic that you put in your recycling bin actually gets recycled?
Not only are we polluting our environment, but our products are polluting our bodies. There are 88 known carcinogens, hormone disrupters or allergins in everyday cleaning and personal care products.
We created Better Basics with better standards for you + the planet. Our goal is simple: refill and replace everyday home products with reusable or biodegradable alternatives. We're not perfect, but we're committed to #doingbetter. You in?
Thank you for joining us.
Caitlin Rushton + Samantha Rayner
Better Basics is female-founded in beautiful Vancouver, Canada
Better Standards
We are not perfect, but we are dedicated to #doingbetter.
We are dedicated to using the most recyclable and natural materials (steel, bamboo, cotton, paper) in all of our products. You won't see any bubble wrap and plastic bags in our supply chain. We're all about keeping it real, so we want you to know that we're still looking for a better alternative for two of our products so that we can go 100% plastic-free.
Soap Dispensers + Misters - We've sourced steel dispensers, but at this time the spray mister and pump straw are plastic. We're working on sourcing recycled ocean plastic pumps for the future.
Refill Container - Our refill container is made of paper, but in order for the liquid to remain shelf stable and avoid leaks, there's a thin plastic liner bag. This plastic bag is made out of 70% recycled HDPE plastic (number 2), and is the most common and easily recycled plastic. The plastic liner separates from the recycled paper so both can be easily composted and/or recycled.
All of the ingredients we use are earth-safe. Meaning that they can be composted in a regular backyard compost and will breakdown back to earth within one year. If left in a landfill, they'll biodegrade back to earth within a few years unlike plastic which takes centuries to break down. Our biodegradable materials include paper, wood, coconut, natural oils and cleansing agents.
Our stainless steel Ever containers and paper and plastic refill jugs are recommended to be recycled.
Our factories are certified with fair trade practices and ISO standards. Our products are certified cruelty-free and not tested on animals. Our soaps and cleaning products are vegan, however there is beeswax in our Bee Well wraps.
We don't use any petroleum products or toxic chemicals in any of our products. All are produced with the most natural, earth-friendly ingredients like coconut-derived soaps, aloe vera, olive oil and essential oils. The FDA and Health Canada do not currently have standards for toxic chemicals in personal care products, so we followed the Environmental Working Group's "Dirty Dozen" ingredients. Our products contain no: PABA, parabens, DEA (or DEA related ingredients), SLS, artificial fragrances, dyes, formaldehyde-releasing preservatives, petrolatum, siloxanes, BHA/BHT, Triclosan, Dibutyl phathalate, PEG compounds.
Better Materials
Our refill bottle is FSC certified recycled paper and has 80% less plastic than a standard bottle. The completely compostable exterior can be separated from the thin plastic lining when bottle is empty. The inner bag is BPA-free and made with 70% recycled HDPE. Bottles are manufactured in California, use 48% less energy than standard plastic bottles, and weigh 25% less saving transport emissions.
Made with stainless steel which is infinitely recyclable across North America. Steel recycling offers a closed-loop system, with 80% of the steel available today being already recycled.
Bamboo is one of the most renewable resources and is more sustainable than wood due to the fast replacement rate. Bamboo is all natural and completely compostable. Put our bamboo products right in your compost bin and they will breakdown back to organic materials.
GOTS certified organic cotton has heaps of benefits: replenishes and maintains soil fertility, expands biologically diverse agriculture, prohibits the use of synthetic toxic persistent pesticides and genetically engineered seed. Organic cotton uses 88% less water and 62% less energy. GOTS is a stringent voluntary global standard for the entire post harvest processing and prohibits the use of toxic inputs during the processing stages, and establishes strong labor provisions including a prohibition on child labor.
Our personal care and cleaning products are made with all natural, plant-based ingredients. We chose earth-safe ingredients like sustainable palm oil. We refuse to use any toxic or chemical ingredients including sulfates, parabens, petrochemicals, artificial colours or fragrances. Our products are vegan-safe and not tested on animals.
A note on palm oil. Palm oil is the world's most widely used vegetable oil for foods and personal care products. The over-harvesting of palm oil has led to deforestation of rainforests and eliminated the precious food for chimpanzees and other animals. This has also negatively impacted many indigenous communities due to child labor and poor working conditions. We sourced coconut-derived surfactants and found that most of them actually include palm oil in the formula (even though it isn't labelled on the bottle). Our coconut surfactant uses sustainable, certified palm oil, and we will continue to search for a completely palm oil-free formulation.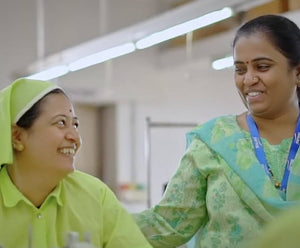 Our Partners
We searched internationally for the most eco-friendly suppliers to bring our vision to life. Each of our partners are on a mission to improve their industry with more sustainable practices and have internationally recognized certifications.
Learn More
Giving Back
We are dedicated to not only creating better products, but also investing back into the communities in which we live. We are focused on improving the systems required to support more sustainable development and reduce the impact on our environment.
We are committed to donating 1% of revenues to environmental and social causes. 
Each year we will choose charities and organizations that focus on environmental preservation and education and opportunities for youth and women. Read more about our donations here.